La Maison Cattin, a family-history
The beginning, in other words, the choice of wine as destiny
François CATTIN
In the late 17th century, François Cattin, born in Porrentruy, Switzerland, came to settle in this small Alsatian village of  Voegtlinshoffen located 10 kilometers south of Colmar. In 1720, François Cattin decided to become a winemaker in addition to his job as a builder. The next 11 generations continued his legacy and this is how the family business started!
Antoine CATTIN
Around 1850, Antoine CATTIN decided to focus exclusively on the profession of winemaking. He marked the beginning of specialization that was carried on by all his descendents. One of his sons, Joseph took over the family-owned Estate.
Joseph CATTIN
At the end of the 19th century, the phylloxera plague started to seriously damage the Alsatian vineyard. Joseph Cattin, having studied successfully, dedicated his time fighting against this plague.
He became one of the pioneers of the Alsatian viticulture by being rewarded with the diploma of « Vignoble modèle ». His brother, Théodore, aimed for gastronomy by establishing the restaurant LA CIGOGNE in Paris.
This place, renowned for its famous Alsatian gastronomy, is well frequented with the Parisian upper class as well as many foreign guests. This place then became an excellent shop front to promote Alsatian wines from his brother Joseph.
Joseph Cattin as a brand was born!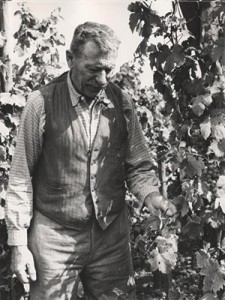 Antoine CATTIN
Following the death of Joseph, his son, Antoine, took over the company surrounded by 7 hectares of vines. Renowned winemaker for the quality of his fine wines, Antoine truly cared for preserving the body and the uniqueness that create the originality of Alsatian wines.
The new breath given by Jacques Cattin at the turning point of the 21st century.
Jacques and Jean-Marie CATTIN
In 1978, Jacques and Jean-Marie, grandsons of Joseph Cattin, took over the family-owned Estate; Jacques, as the manager and Jean- Marie running the vineyard operations. Jacques began to modernize the Cattin Winery; a new dynamic was created. In 25 years, means of production completely transformed and the vineyard has been spread over 60 hectares.
The new generation and a dynamic winery exporting worldwide
Jacques CATTIN Junior
In 2007, Jacques Junior, joined the company after having studied engineering in agronomy and winemaking. In collaboration with his father, Jacques Cattin Senior, Jacques junior took charge of the wine-making and the financial department. His wife, Anaïs, graduated from a prestigious business school, and with strong experience toward international commerce, she joined the company in 2012. She is currently responsible for the international sales department.